Breakout Startups #25- Mixmax
The startup powering your Sales & Marketing Teams
Hi,
First of all, Happy New Year.
Let's get back to the usual business now. In the 25th Edition of Breakout Startups, today, we are covering, Mixmax, the powerful analytics, automation, and enhancement platform for your outbound communications.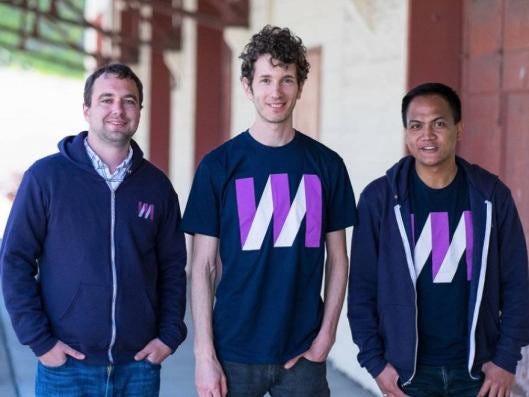 ---
What is Mixmax?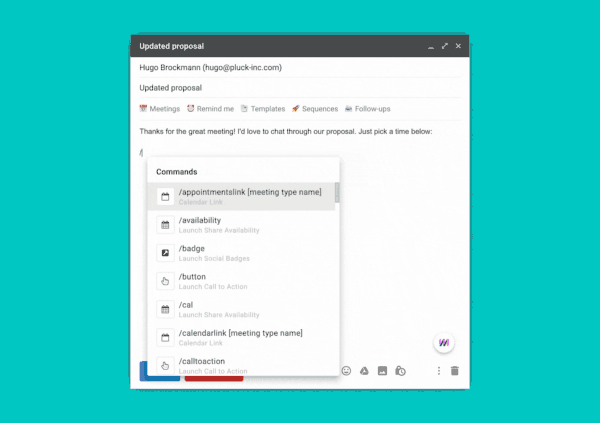 Mixmax is a communication tool that enables seamless communication between you and your customers.
The product bundles the power of personalized communication, the efficiency of automation and the ease of Gmail all in one to help teams inside an organization.
Origin Story
The origin story goes something like Chanpory Rith, one of the founders of Mixmax, then an employee at Google overseeing Design of the Gmail iPhone app, He had been pushing the company to build features, like email tracking and scheduling for businesses but that wasn't given much importance inside the company.
Plus, the two-hour commute between his house and Google HQ was taking a toll on him. So, he left to join a local startup called Inkling. Over there, he met his to-be cofounders Brad Vogel & Olof Mathe.
The team together left Inkling in 2015, to start Mixmax, the original idea Chanpory had while working at Google 😄
Talking about the vision of Mixmax, the company's About page says
"We started Mixmax to take on the challenge of upgrading email to the 21st century. In the last decade, we saw the web mature at an incredible pace. Video-conferencing, "street view" on maps, and collaborative document editing are all examples of amazing advances that are standard on the web. And yet, email remains static, plain, and unproductive. Despite its ubiquity and longevity, email is stuck in 1999. After building communications and authoring products at companies including Apple, Google, and Skype, our team saw a huge opportunity to build a world where email maximizes both your productivity and expressiveness."
Fast forward to today, Mixmax serves over 10K Users and is already profitable.
Product
Mixmax focuses on 5 key elements of an effective Email Marketing Tool.
Tracking

Engagement

Scheduling

Automation

Integration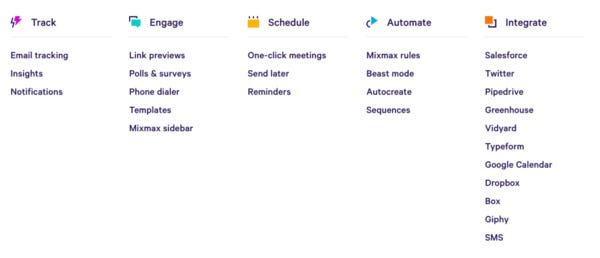 The team very recently came up with Mixmax 2.0, a big improvement over its predecessor. It comes with a fast email editor, slash commands for the apps you use frequently, and full compatibility with any other Chrome extensions (e.g., Grammarly, Loom).
Along with this, some new features include:-
Slack and CRM integration

Team sequences for sales, success and recruiting

Insights and Analytics on all your customer interactions

LinkedIn Sales Navigator integration — including the ability to send InMail directly from the inbox.
See the video announcement here 👇
---
Market Landscape and Growth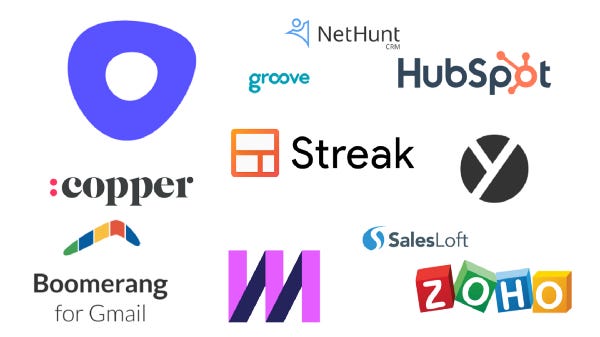 Mixmax is in one of the most competitive markets out there. The product is directly competing with established tools such as Outreach, Streak, ZohoCRM, Hubspot, Groove, SalesLoft and several more.
These businesses are well established within their respective domains and industries and already have a huge share of the market. Despite this, the company has been able to gain solid popularity in Tech Startups across the world.
Some of Mixmax's Customers👇

On the product front, the company easily outshines a number of its competitors in important performance metrics such as Ease of Setup, Implementation Time & several others.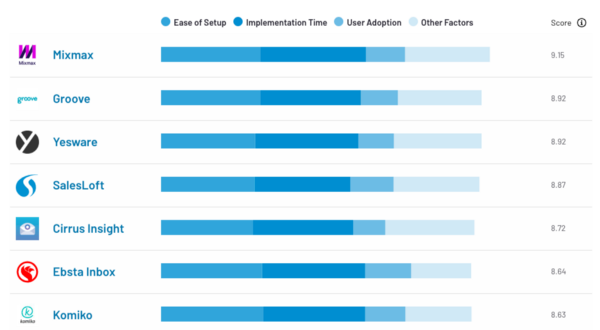 Mixmax is also one of the fastest-growing products in the US in the past year, according to G2.
The product is regularly mentioned in conversations around Twitter about awesome it is. Check out some of the tweets 😄
In the Series A Round announcement 10 months ago, the company mentioned that it is serving more than 10,000 customers with most of them being Small and Medium businesses. The company is currently looking to expand into other target markets and grow the team size.
Funding
To date, Mixmax has raised a total of $13.4M in 2 rounds of financing.

Most recently, the company raised a Series A of $10.4M from Jason Lemkin & SaaStr Fund.

Prior to this, the company had raised a Seed Round of $3M from Harrison Metal.
Team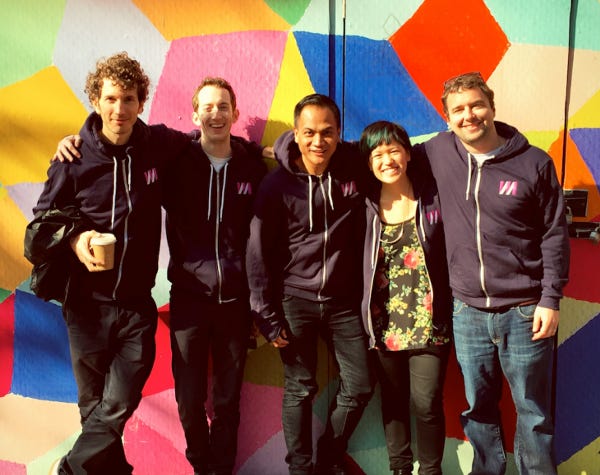 Mixmax's founding team met at Inkling, where together they built Inkling Habitat, the WYSIWYG ebook editor now used by the world's biggest publishers.
The team also boasts the experience of building products at companies like Apple, Google, and Skype.
Olof Mathe- Co-Founder & CEO, Mixmax
Brad Vogel- Co-Founder & CTO, Mixmax
Chanpory Rith- Co-Founder & Chief Experience Officer, Mixmax
Jobs at Mixmax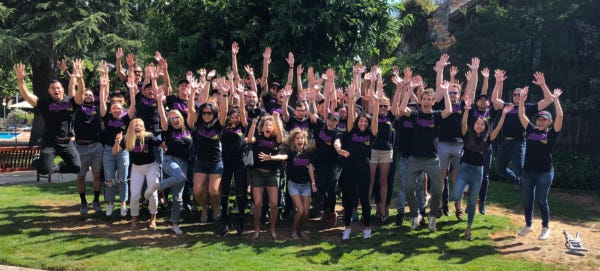 Senior Software Engineer — Web (Remote) at Mixmax
Senior Engineering Manager at Mixmax [SF & Remote]
Engineering Manager (Remote) at Mixmax [SF & Remote]
---