Hi, This is Ankit here. We had a good fun last week with our report on GitLab received very well by the audience. The report also got featured on the Substack Top Posts of the day.
BTW, Did you notice the changes? We have changed the name to Breakout Startups by Xpo Network.
---
Have some feedback for us? Want us to cover your favorite company? Let us know in the Subscriber Feedback Form Below
---
Coming to today's report, today we are covering, Clearbit, a company started by Stripe's Employee No. 20 which just raised their Series A round of $15M at a valuation of $250M.
---
What is Clearbit?
Founded in 2014, Clearbit develops business intelligence to help companies find more information of customers in order to increase sales and reduce fraud.
Currently, Clearbit offers tools which helps everyone in the team ranging from developers to marketers to sales people.
Motivation
In an interview with Courtland Allen of IndieHackers, AlexMcCaw said,
Well, Clearbit was kind of an accumulation of all the problems, the data problems I saw at Stripe and Twitter, like the previous two companies that I worked at, and I just noticed there was, the data we needed wasn't there or it was in some terrible format, some terrible API and I just wanted to build a company that would solve that. I thought that it was a really interesting area. It was also kind of an un-sexy area which is what I really like working on. I think the data industry is old, it's not very innovative, some players have been around like half-a-century so I just wanted to get into it. I also wanted to build a company that was developer focused, or at least had really awesome options for developers 'cause I worked at Stripe and I saw the impact and the power that you can have when you focus on building a product that is fully developed.
Why Is Clearbit Special?
In the Series A investment announcement, Geoff Lewis of Bedrock wrote,
Clearbit is the only data company in the world to give insights into the whole customer lifecycle, starting with the first website visit, throughout the sales process, and then post-sale as they dynamically update and refresh records in real-time.

Elegant APIs for broad internet utilities are often underestimated in their early days. People get stuck on the specific function (In Clearbit's case, data enrichment for B2B marketing and sales), rather than what it can be used to create:the enabling impact of the utility. On the surface Stripe was just another payment processor, but the elegance of its APIs enabled an entire generation of online retailers. On the surface Plaid was just a way to connect bank accounts, but that utility led to an explosion of creativity in FinTech. Similarly, on the surface Clearbit offers a simple utility, but what it can be used for is endless and empowers every business on earth to be truly data-driven in an instant. [Source]
Team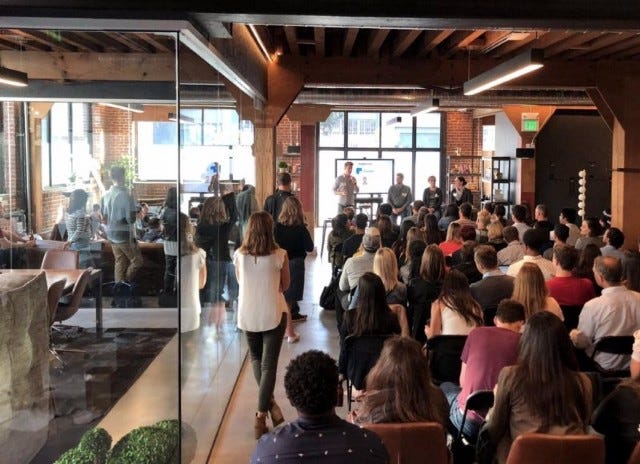 Clearbit HQ
Market Share
At this point of time, Clearbit has a small but an accelerating market share in the already crowded space it's a part of.
Source
Along with this, Clearbit chrome extension has over 171K installs at the time of writing this memo.
Core Strength
In addition to an amazing product and integrations with tools such as Segment, The company has been able to make inroads into an already competitive market due to its unique take on marketing. It is, in part, due to their relentless focus on SEO and Content Marketing. The company's blog is updated very frequently with feature updates, tips on using Clearbit, integrations and more.
Read it below:-
Clearbit
Powerful APIs designed to help your business grow.blog.clearbit.com
The company has also published two books so far focused on Marketing and Sales.
2. Clearbit has been profitable for the past three years which is a rare club in Silicon Valley.
3. The company has been phenomenal with using free products as a marketing tool. The company has a Free Logo API that's used by several brands. Along with this, Clearbit chrome extension offers 100 free searches every month.
Company's Leadership
Clearbit has a unique approach to leadership and is constantly talked about in tech circles. They have written about it extensively.
Customers
Clearbit has been able to onboard a number of marquee companies such as Notion, Asana, Segment, Altassian, Flexport and several more.
Read some customer stories below 👇
A lot of stuff have been written about how companies used Clearbit to grow themselves. You can read one of the stories below 👇
How DigitalOcean built custom messaging for 50,000 contacts within a week of deployment
Funding
In company's latest round of funding, Clearbit raised an additional $15M in funding at a $250M valuation. The investment included Bedrock, Battery, Cross Creek, and Zetta Venture Partners. You can read Clearbit's announcement here- Our next chapter
2. In 2015, the company raised a seed round of $2M led by Founders Fund and SV Angel.
3. Till date, the company has raised $17M in Venture Capital financing.
Risk of Further Funding
In 2015, when the company raised its seed round the team decided it'd be the last round they would ever raise. The team then raced to profitability within within the first nine months.
For the past three years, Clearbit has been profitable. As Bedrock put in their investment announcement,
With over 1500 happy customers, and over 60 happy employees, Clearbit has the metrics to warrant a larger $50–100M growth round — one that many venture capital firms would have been more than happy to fund — yet their relentless focus on delivering value to customers (thereby driving revenue) has led to a flywheel that's extraordinarily capital efficient.
Given the company's metrics, raising money in the future doesn't seem to be a problem for the team.
Jobs at Clearbit
---
That's it for today. Follow us on Twitter