Breakout Startups #24- Odoo
The most underrated Open Core Company out there
"If you join a company, my general advice is to join a company on a breakout trajectory." — 

Sam Altman

, President at

Y Combinator
---
Hi,
This is Ankit here. First of all, thank you for giving our last post on Mattermost a great response. We are going to be coming up with a Year in Review Post coming week.
Watch out for that😄
---
In the 24th Edition of Breakout Startups, we are covering Odoo, one of the most underrated Open Core startups out there. 

---
What is Odoo?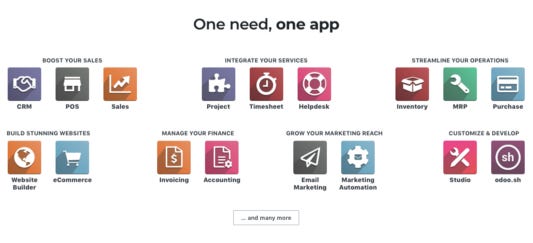 Odoo is an open-source suite of more than 30 applications via its Enterprise platform — including ERP, accounting, stock, manufacturing, CRM, project management, marketing, human resources, website, eCommerce and point-of-sale apps. 
It boasts a community of ~20,000 active members who have contributed more than 16K apps to the open-source version of its software, addressing a large number of business needs.
Story
In 2005, Fabien Pinckaers building TinyERP with the vision to compete with SAP. He was hell-bent on going against SAP that he even bought the domain SorrySAP.com. However, the name didn't work well with a lot of big clients so 3 years later, the name was changed to OpenERP. 
The company started to evolve quickly and in 2010, OpenERP had become a 100+ employee company. At this point in time, the company was primarily a services company building and selling services on top of OpenERP but soon the team realized that they had an ugly product out there. 
Soon after this, the company made a move.
Oodo's Founder & CEO, Fabien, writes in a blog post👇
We wanted to switch from a service company to a software publisher company. This would allow to increase our efforts in our research and development activities. As a result, we changed our business model and decided to stop our services for customers and focus on building a strong partner network and maintenance offer.
From inception, Odoo(then OpenERP) had released software as open-source but starting with the V9.0 release, the company transitioned to an open core model, which provided subscription-based proprietary enterprise software and cloud-hosted software as a service, in addition to the open-source version.
Team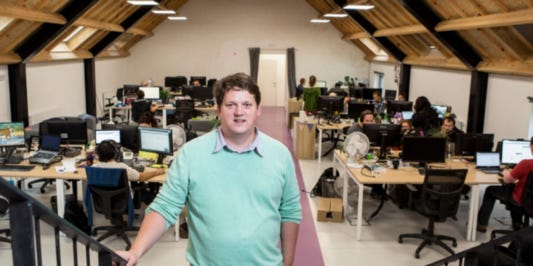 Odoo is a Single Founder company that was started as TinyERP right out of University in 2005 by Fabien Pinckaers. One of the investors in Odoo wrote something like this about Fabien and his hiring capabilities,
Thankfully, Fabien is surrounded by the best devs you can find. How does he attract and keep them? He's one of them. [Source]
Antony Lesuisse —  CTO of Odoo, He oversees 200+ in-house developers and looks after the community of 2,000 developers/
Phuong Luu —  Chief Services Officer, One of the oldest employees at Odoo(2006).
Johan Wouters — Chief Project Officer, TinyERP Partner since 2006, joined Odoo in 2012. 
Funding
Odoo has raised a total of $104M.

The latest funds came from a Secondary Sale where Summit Partners bought $90M worth of stock in the company from existing investors.

Prior to this, the company had raised a Series A and Series B round of $3M & $10M from one of the top European VC firms, Sofinnova Partners. 
The team plans to invest the money into recruiting Engineering and Growth Talent. During the Odoo's latest fundraising announcement, company spokesperson mentioned, 
"Odoo is largely profitable and grows at 60% per year with an 83% gross margin product; so, we don't need to raise money. Our bottleneck is not the cash but the recruitment of new developers, and the development of the partner network"
Open Core Companies
Over the past few years, we are seeing a new generation of Open Sourced Competitors come up with GitLab, Redhat, Mattermost and several others.
The perks of having an Open Source software are endless but there is one that stands out
Community
More than 20,000+ people have contributed Odoo from around the world which enables a strong number of ideas and contributions for the productions. 
And, this is one thing which Open Core Companies such as Mattermost, Gitlab have a strategic advantage over large and deep-pocketed competitors such as Slack, GitHub respectively. 
Market Landscape
Odoo is competing with giants such as SAP, Oracle, Microsoft, and Zoho. 
However, even after such strong competition, the company boasts of more than 4.5 million users worldwide. The company is growing consistently above 50% over the last ten years which is an astonishing achievement in itself. 
Currently, the ERP Market remains fragmented with a good amount of market share available for a new product to come in and capture.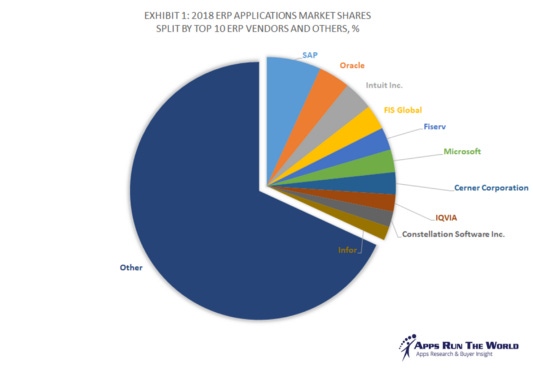 With the current growth rate of 1.2%, the ERP applications market size is expected to reach $96.7 billion by 2023, compared with $91.1 billion in 2018 which makes it a very big opportunity. [Source]
Odoo definitely has the potential to become a key player in the market given the current growth rate and the open-source nature of the product. 
All these factors make it a Breakout Company in 2019. The best part, they are hiring across roles 😄
Jobs at Odoo
Web and JavaScript Developer at Odoo
---