Breakout Startups #23- Mattermost
The Open Sourced competitor to Slack
Hi,
This is Ankit here.
In the 23rd Edition of Breakout Startups, we are covering Mattermost, the company building an open-sourced competitor to Slack.
---
About
Mattermost builds open-source and high-trust messaging tools for enterprises and developers.
The company was founded in 2011 as "SpinPunch, Inc", an HTML5 game engine developer. 
The product was initially supposed to be used as a communication tool within Spinpunch's gaming portal. At the same time, the company was building the messaging software, there was growing frustration with the messaging app used internally by employees. Instead, the team decided to repurpose the code used for its game portal messaging app and create a business-focused team chat app that the team can use for itself. 
After this, the company open-sourced the tool in 2015. And the rest, as they say, is history.
Mattermost is an Open-Core Company, a business strategy where a company offers a "core" version of a product with limited features as free and open-source (FOSS) software at the same time an add-on commercial version is released as proprietary software.
Mattermost offers two separate commercial versions:-
The private-cloud workspace solution designed for deployment by non-technical users with necessary IT skills.
With apps for your desktop and mobile devices, this solution brings team communication into a single environment, with instant search, continuous archiving, and a bunch of third-party integrations.
Everything from the Team version with a little extra focus on large enterprises. This version comes with advanced security, higher-grade messaging, and a bunch of scalability tools for the company.
---
Mattermost Vs Others
Mattermost has been able to carve out space in the market for itself because of its highly unique features. Let's deep dive in a few of them 👇
Open Sourced Product and Highly Customizable
Mattermost is 100% Open Sourced. In fact, the team has been marketing itself as a free alternative to paid clients such as Slack, Hipchat, MS Teams.
The tool easily integrates with existing applications and build new workflows especially operations and DevOps which serve as a core differentiator.
A Snapshot from the Mattermost's Home Page 👇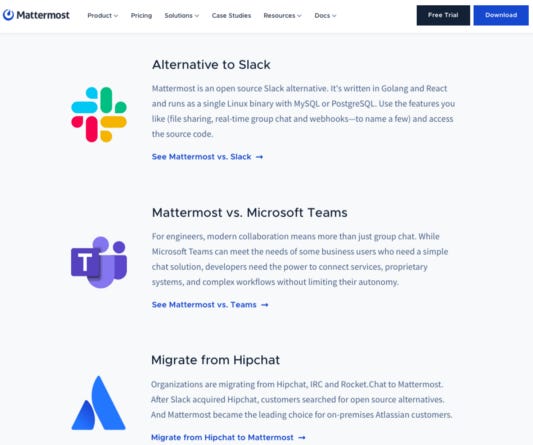 You can check the Product here 👇
mattermost/mattermost-webapp
Mattermost is an open-source, self-hosted Slack-alternative from https://mattermost.org. It's written in Golang and…github.com
2. Security Conscious Product
One more differentiating factor for Mattermost is its extra special focus security. The product offers the industry's most flexible and secure instant messaging capabilities across all devices.
Any company can customize Mattermost to eliminate shadow IT and ensure compliance with the unique regional, industry-specific and company-specific requirements facing a company.
The products work very effectively at scale as well. Uber built out its own version of Mattermost, uChat, after its previous chat client started crashing that crippled the company's ability to effectively communicate online. That's what led the company to explore Mattermost to built out its own solution. 
The Road to uChat: Building Uber's Internal Chat Solution
Learn how Uber Engineering's Employee Productivity Tools team built uChat, an internal chat solution capable of scaling…eng.uber.com
3. Strong Developer Niche
The product has been able to crack a strong niche among the developer community. Given its highly customizable features and an extra focus on DevOps, the product remains an outright favorite of the community. 
4. Rapid Growth
Mattermost has been recording phenomenal growth in 2019 which makes its one of the breakout companies of the year.
The company's Founder and CEO, Ian Tien, wrote in a blog,
Every open source Mattermost server can support hundreds of Slack-compatible teams and every month over 10,000 servers are downloaded.
Given this rapid growth, there is a great room for development as the estimated market size for chat client stands at $30B right now. He says,
In Slack's S-1 they estimate our market opportunity at around $30B, which is more than enough room for Mattermost, Slack and Microsoft Teams to serve the different market segments.
---
Funding
We are seeing an increased interested in investors willing to back open core companies. After GitLab achieved the Unicorn valuation earlier this year, Mattermost became one of the few companies to have raised two later-stage rounds of financing within a single year. 
To date, Mattermost has raised a total of $70M in funding over 3 rounds.

The company's latest funding round Series B of $50M was led by YC Continuity Fund. This was the company's second funding round in the same year after it raised $20M Series A led by RedPoint Ventures.

Prior to this, the company had raised a Seed Round in 2017 from S28 Capital.
Ali Rowghani, CEO of Y Combinator Continuity, talking about the investment in Mattermost says,
"This is YC's largest investment in an open source company. We believe that open source will drive innovation in enterprise messaging and collaboration just as it has for the infrastructure stack that powers many of the world's largest companies"
Market Landscape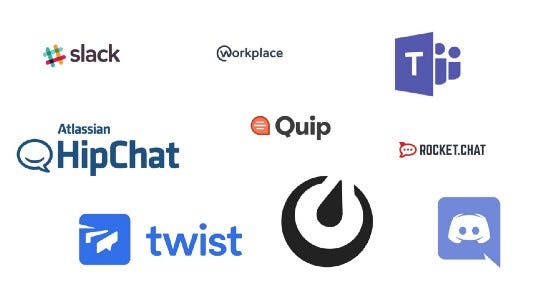 Mattermost is in one of the most crowded markets!
Mattermost is operating in a market that is highly competitive with much larger players such as Slack, MicrosoftTeams, Hipchat, Twist, already having a strong footing.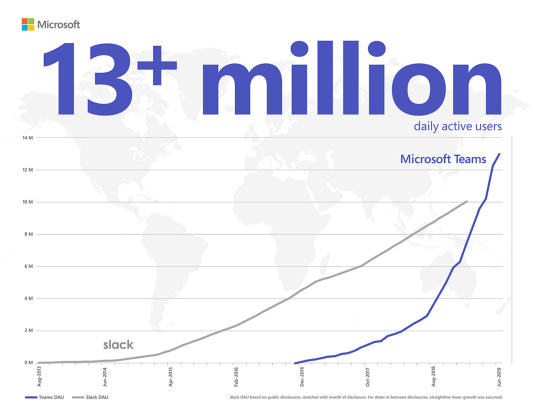 Recently, Microsoft became the client with the biggest number of users surpassing Slack.
However, even in this, highly competitive market, Mattermost has been able to able to find a strong niche in the community of developers and teams looking for a customized official chat client for internal collaboration.
This traction led to the company raising a $50 Million Series B(it's second funding round in an year) funding round led by the YC Continuity Fund to further accelerate the development of its products. The team had earlier raised a $20M Series A funding round led by RedPoint Ventures.
Slack 'Alternative' Mattermost Raises $50M - UC Today
Mattermost recently announced a $50 million Series B funding round led by Y Combinator Continuity Fund. According to a…www.uctoday.com
Currently, the tool is used by mega-corporations such as Uber, Samsung to government agencies such as NASA, Department of Defense, USA.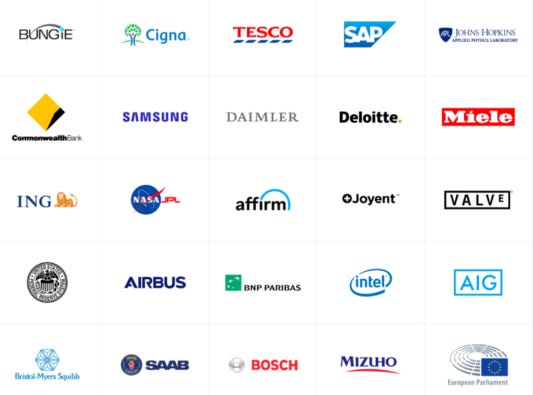 The company also recently joined YC Top 100, a list of 100 most valued companies backed which went through Y Combinator.
Team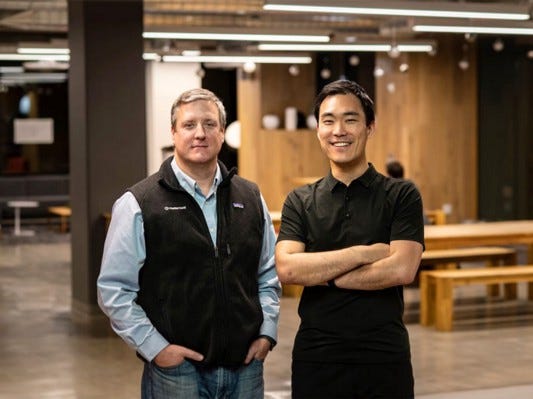 Currently, the Mattermost team is 129 people strong and is growing rapidly with the team highly focused on hiring.
Ian Tien- Co-Founder and CEO, Mattermost, Previously: Led Microsoft office, Hotmail development at Microsoft, An Alumnus of Stanford.
Corey Hulen- Co-Founder and CTO, Mattermost, Previously: Microsoft, Stanford.
Jobs at Mattermost

Backend Engineer at Mattermost
Technical Product Writer at Mattermost
Database Engineer at Mattermost
Full Stack Developer at Mattermost
---