Hi, It's Ankit here from Xpo Network.
In the 15th edition of Breakout Startups Memos, we are profiling Postman, a platform for developers or enterprise to build, test, and debug their APIs.
Product
Postman is the an API development environment. The product enables more than 8 million developers and 300K companies with its set of built-in tools to support every stage of the API lifecycle.
Strengths
Phenomenal Growth
Since its launch, Postman has grown significantly. Today, more than 7 million users and 300,000 companies use the platform.
The company is bullish on the face that the software developers are moving from a code-first to an API-first approach.
Abhinav Asthana, Founder and CEO, says,
"APIs are the building blocks of effective software — so while software might be eating the world, we know that APIs are eating software. Innovation in APIs will drive the future of software development, and this funding will further accelerate Postman's growth in the API ecosystem."
2. Marquee Customer Base
The company since its inception has moved from being a tiny startup to offering services to companies such as Twitter, Paypal, Box and several other marquee startups.
3. Developer First Approach
Very similar to Stripe, Postman has also been promoting itself to developers only. The product has garnered fans in the developer community and they are very vocal on platforms such as Twitter about how good a tool Postman is.
Team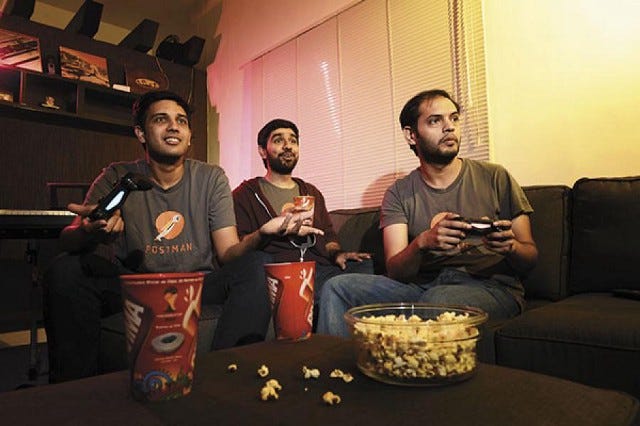 In 2009, Asthana met Sobti during an internship at Yahoo. An year later, Asthana founded a startup TeliportMe, where Abhijit scored an internship. The three bonded over their love for video games.
In October 2014, the three started Postman, two years after Asthana wrote code for the first version of their eponymous (software) platform.
Abhinav Asthana- Founder and CEO, Postman, Previously: CTO of TeliportMe
Abhijit Kane- Co-Founder at Postman, Previously: Engineer at Walmart
Ankit Sobti- Co-Founder at Postman, Previously: Product Manager at Media.net
Financing
Postman has raised a total of $58M in funding over 3 rounds.

The company's latest round of funding, a $50M Series B, was led by CRV.

With this funding, Devdutt Yellurkar, General Partner at CRV, will join the board of directors at Postman.

Prior to this, Postman's Seed Round and Series A was led by Nexus Venture Partners.
Risk of Further Funding
Given company's momentum, raising further rounds of financing[if required] should not be a problem. The company also has got a very bullish set of the investors rooting for it. Sameer Brij Verma of Nexus Venture Partners says
"We are very bullish about the company and feel that it can possibly be one of the best software startups to come out from India. We definitely foresee a future where developers think about Postman as the platform of choice when they are working with API"
2. Postman stands at a stage where API-ficiation of everything is happening and given the company's recent financing, the company can accelerate its growth more rapidly.
Market Landscape
APIs have become the centre focus on attention in the software industry and have been growing in importance for the past 10 years. In 2010, we had innovative startups such as Stripe[Current Valuation: $35B] and Uber[Current Valuation: $65B] were using APIs to work, and now in 2019, we have entire companies being built on top of APIs.
At this point of time, every technological change is in part driven by APIs.
Commerce and payments — APIs aka Stripe
Cloud computing — APIs aka AWS
Internet-connected devices — APIs aka Nest, Alexa APIs
and many more.
Given this rapid growth, companies such as Postman and its competitors such as 3Scale, APIMetrics and Runscope stand as the ones selling picks and shovels in this gold rush.
Notable Points
The product began as a Side Project by Abhinav, Founder and CEO of the company. He was trying to solve his own problem with the lack of proper clients out there. In an interview, he says,
As a developer, I could not find a product that made it easy to make API calls to send and receive data. Debugging APIs was hard, so I hacked together Postman. I learned that you could offer your app on the Google Chrome store, so I put it up there and was surprised by the reaction from the development community. Not too long after I put the app up on the Chrome store, people on Stack Overflow and Reddit started recommending Postman. One of the big indicators I had something was when Google contacted me because they use the product all the time and they wanted me to make some updates so they could put Postman up as a featured product on an updated Chrome app store platform.
2. The product was ramen profitable in the beginning thanks for sponsorships. But, soon after this, investors reached out to the team saying, 'Hey, you guys have a lot of traction. We heard about you from other folks… Have you thought of starting a company?'
That was the beginning of what is Postman today.
In The Press
Postman raises $50 million to grow its API development platform
Postman, a five-year-old startup that is attempting to simplify development, tests and management of APIs through its…techcrunch.com
Why Postman attributes its success to dogfooding and the Postman community
Whether it's about watering your plants or building a secure payment gateway, Postman is the go-to platform for the…yourstory.com
Careers at Postman
The company has offices in SF and Bangalore and is hiring at both locations.
Engineering Manager[Bengaluru] -https://jobs.xpo.network/b/aopkid/view
Release Manager[Bangalore] at Postman - https://jobs.xpo.network/b/iy6rg2/view
Tech Lead, Platform Infrastructure[US] at Postman- https://jobs.xpo.network/b/edjr5n/view
Information Security Engineer[US] at Postman- https://jobs.xpo.network/b/74ipqc/view
Engineering Manager, Platform Infrastructure[US] at Postman- https://jobs.xpo.network/b/y74ut3/view
Technical Lead[Bengaluru] at Postman- https://jobs.xpo.network/b/qm4rx7/view
Software Engineer, Frontend- Bengaluru at Postman- https://jobs.xpo.network/b/audyb4/view
Engineering Manager[US] at Postman- https://jobs.xpo.network/b/4y46iv/view
---
That's it for today.