Hi,
This is Ankit here from Breakout Jobs.
---
We are running a Survey to find how can we add more value to this email for our subscribers. Please help us out by filling this 1-Minute form below.
---
In this sixth edition of Breakout Jobs, we are profiling Webflow, the company that heralded the No-Code Revolution.
---
What is a Breakout Job?
A Breakout Job is that one role that helps you get discovered. The best examples which hit my mind are Andrew Chen at Uber and Erik Torenberg at Product Hunt.
What is Webflow?
Webflow is a design tool, CMS, and hosting platform. It gives designers and developers the power to design, build, and launch responsive websites visually, while writing clean, semantic code for you.
Here's what Accel said in their announcement about the company in their investment announcement
We first met the Webflow team four years ago, and were immediately struck by their sincere dedication to a dual mission: to enable web creation for anyone, and to promote fulfilling, impactful lives for their employees while doing it. Co-Founders Vlad, Bryant and Sergie have created a truly special company that cares about its employees and customers above all else. In the years since, the effusive love we've heard from both employees and customers is overwhelming. And they've gotten to this point having only raised a small seed round, which has instilled a level of financial and operational discipline that's increasingly rare to find in companies today. In the years and decades to come, the web will continue to proliferate. So far, it has largely been built by developers armed with technical knowledge and experience to support them. We believe Webflow and its no-code foundation are changing the entire software development paradigm, enabling the next generation of creators to maximize their creativity like never before.[Source]
Origin Story
Vlad Magdalin's attempt at starting up Webflow in 2012 was his third attempt at same. He first came up with the concept in his college senior paper talking about how tools that could translate drag-and-drop design into clean back-end code could lower the barrier of entry for entrepreneurs to bring their ideas to life.
This time, he got his colleague Bryant Chou and his brother Sergie to join the project alongside him.
For funding, they tried Kickstarter at first which failed badly. After 7 months of bootstrapping and building out an MVP, they posted to Hacker News, where the product went viral and received 10k signups in less than 24 hours. After , they spent six more months developing a simple first version of their tools.
Sometime later, the tool took off first among freelance Web designers and the startup was accepted in Y Combinator in 2013.
After this, Webflow raised its $2.9 million seed round from the investors such as Khosla Ventures and Y Combinator's own fund after finishing the program, though many VCs were skeptical that its target market was too niche and facing too many competitors.
Strengths
First Mover Advantage
Webflow has a unique first mover advantage when it comes to No-code movement. Not everyone is equipped enough to go ahead and code and that's where these tools such as Webflow, Notion, Zapier, Airtable are coming in and helping people.
The next billion programmers (won't use Git)
[medium.com]
The Rise of "No Code" [medium.com]
To enhance its efforts in this direction, Webflow is also organizing a No-Code conference in November 2019.
No Code Conference 2019 | Brought to you by Webflow
The first conference celebrating the future of visual development
2. Strong Community
Webflow being the pioneer of No-Code movement commands a very strong community support too. The CEOs can't stop raving about it on Twitter.
Check out the best of #MadeinWebflow here:
Popular Websites | Webflow
Check out our list of the most popular responsive websites made with Webflow by professional web designers.webflow.com
3. Team Culture
At Xpo, we have never put Team Culture as one of the strengths of a company. But, Webflow is special. Take a look at the tweet below about Vlad Magdalin.
Weaknesses
1. Steep Learning Curve
Webflow, along with providing so many features and tool at a user's disposal also comes up with a steep learning curve. To counter this problem, the company has come up with Webflow University which helps users get started with building on top of Webflow.
Learn web design with free video courses and tutorials | Webflow University[university.webflow.com]
It will be interesting to see how company navigates this steep learning curve problem with growing competition(see below).
2. Increasing Competition
Webflow, even though, the company has a loyal user base, the company faces competition of companies such as Squarespace, Weebly, Wix, Tilda Publishing and several others.
With the growing number of competitors everyday and more people coming into the no-code space, it will be interesting to see how Webflow holds on to its fort in the coming wave of no-code startups.
Team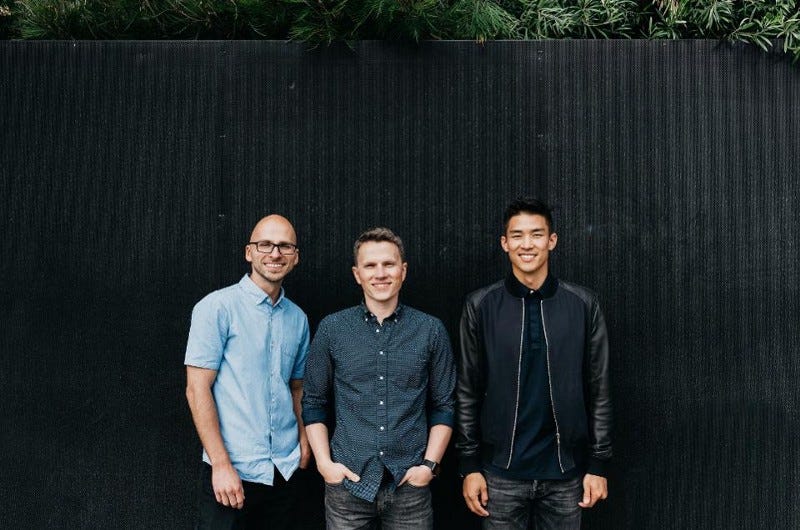 Vlad Magdalin, Co-founder and CEO of Webflow, Previously worked as a Senior Software Engineer at Intuit.

Bryant Chou, Co-Founder, CTO of Webflow, former CTO of Vungle.

Sergie Magdalin, Co-Founder & CPO of Webflow, Designer at Muir Skate.
Funding
Till date, the company has raised $74.9M in funding.

The company's latest funding round, a Series A of $72M which valued the company at $350M, was led by Accel.

The company is funded by marquee VC firms such as Y Combinator, Khosla Ventures, FundersClub, Accel, and Rainfall Capital.
Notable Points
Webflow has had an amazing story since its inception in 2012. Vlad put its in the best manner through this tweet.
And then after 5 years of hard work since 2014, this happened 😄
No-Code Website Builder Webflow Went From Near Bankruptcy To A $72 Million Series A Funding Round[www.forbes.com]
2. Webflow is one of rare Series A companies which has been profitable for the past two years.
3. The company made more than $20M in Revenues last year.
4. The company currently serves over 47,000 customers on the platform currently and is increasing its footprints rapidly.Few of the Marquee Customers of Webflow are shown below.
Success Stories
Recently, Founder and CEO of Webflow, Vlad Magdalin, put up a question on Twitter asking people how Webflow has impacted their life. Here are some amazing answers:
@callmevlad

@webflow

Built my first no-code product with Webflow 😊 Only took me three weeks:
entrepreneurshandbook.co/how-i-launched…
Just passed $1,000 all-time revenue in three months:
indiehackers.com/product/hey-ma…
---
Jobs at Webflow