Hi,
Welcome to the Surprise Editon of Breakout Startups. If you think it's getting too much in one week, I am just trying to compensate for the past month🙈
How's it going? Over the past few days, I have been seeing a lot of InsurTech tweets on my feed thanks to following Rahul Mathur, who is a learning machine and shares plenty of interesting insights on Twitter.
Some time back, he published a piece on Substack about this company called Acko Insurance, which I was hearing a lot about partially because I was taking too many Rapido rides in Bangalore.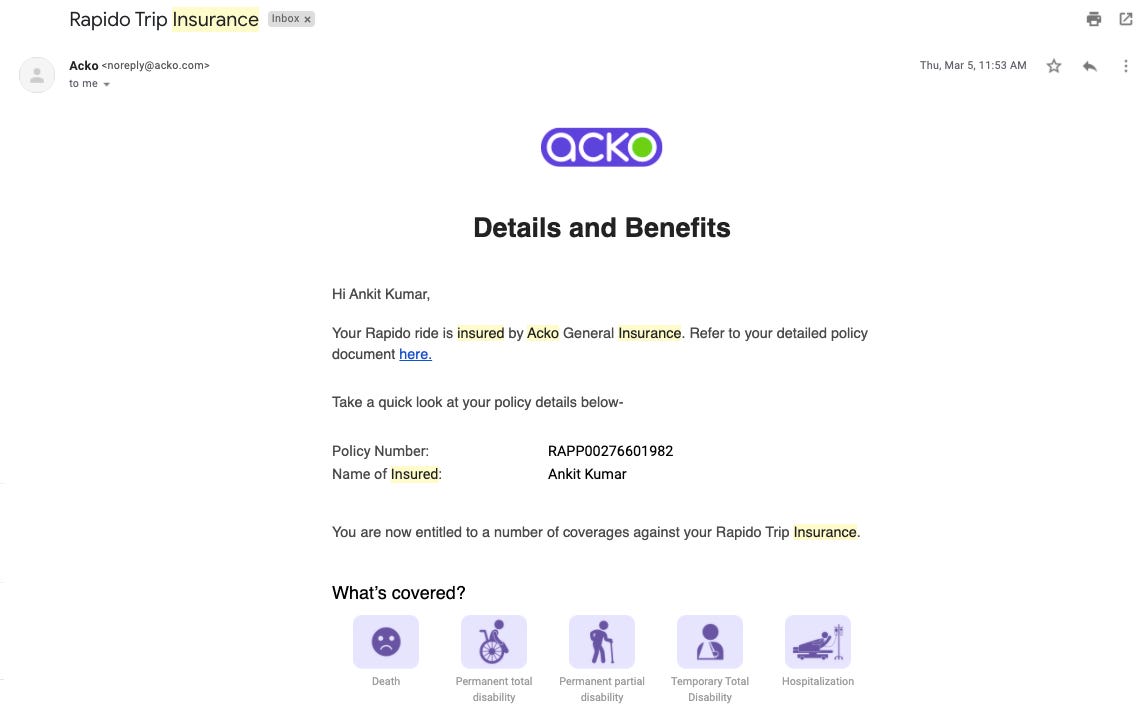 All the Rapido trips are insured by Acko. In fact, they do a bunch of these partnerships to serve the end. Some of them are-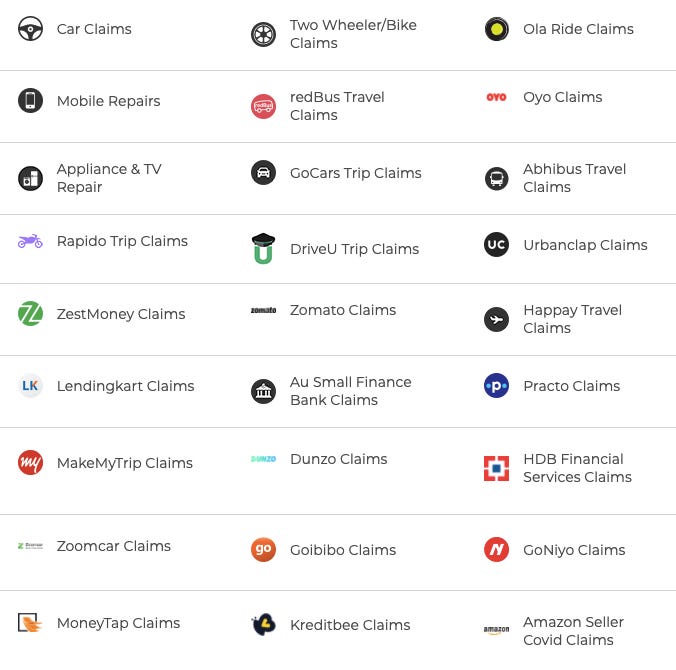 The number and scale of partnerships clearly show the speed at which the company has gone about executing its plans.
Some stats
Acko underwrites ~ 20M micro-trip policies per month via its partnership with Ola Cabs.

The company is supporting Amazon in its insurance distribution foray via Amazon Pay. (Super app????)
But how did it start? Let's do a deep dive!
Beginnings
Varun Dua was already a known name in the Indian Startup ecosystem when he decided that he was going to work on Acko. With the track record of building Coverfox, raising seed money wasn't a big issue for him.
Thanks to this reputation, he along with co-founder Ruchi Deepak ended raising the largest Pre-Revenue Seed Round for an Indian startup(till date) from Accel and SAIF Partners and a bunch of marquee angel investors. In fact, they closed the seed before the team had even acquired a license to offer insurance. This alone speaks volumes about the cred Varun carries in the India scene.
Later on, the tea worked on building the product for two years and launched in the last quarter of 2017.
The Messy Middle

In the first 12 months of the launching the product, the company adopted a B2B2C strategy to distribute its products and went after e-commerce, ride-hailing and travel sites and offers several insurance products customized for them.
In April, Acko launched passenger insurance for Ola's ride-hailing service, which covers riders for obvious items like minor accidents, and eventualities like missing a flight due to traffic delays. The insurance claim system is built into the Ola app to simplify the process for users. It had already insured more than 10 Million of Ola trips by this time. The above graphic will give you a good idea of partnerships they have done so far. And it's amazing the speed at which the team is executing right now.
During this superb growth phase, the company added Amazon to its cap table when they invested $12M and welcomed them as a strategic investor in May 2018. This was one of the many steps Amazon has taken in the past year to position itself as a Super App in India. The company acqui-hired Tapzo in 2018, has launched Bus & Air ticket booking, and Amazon Pay inside the app counts Ola, Box8, Faasos, and redBus among several others as partners. The vision is surely there, let's see how it works out :)
Coming back to Acko, after the Amazon round, the company went about executing its plans and has been growing strength to strength. In fact, just 10 months later in May 2019, the company announced one more fundraise of $65M led by strategic investor, Intact Ventures Inc., the corporate venture arm of Canada's largest property and casualty insurer, along with RPS Ventures, Accel, SAIF and TechPro Ventures.
By this time, the company had started making moves on its other product called Acko Car Insurance and had insured over 200,000 cars across India.
Current Scenario & Future Plans
Despite being less than 3 years in operations, the scale at which Acko operates is mind-boggling.
Personally, I believe Acko is currently in the phase where they are trying to set up a cash cow with their partnerships & car insurance business to people in Tier 1 & Tier 2 cities(remember cars in India are a luxury) and then eventually move to India 3 which hasn't even heard about insurance.
For FY 19-20, Acko's revenue was ~$55M; which is very impressive for a company that has been trading for just under 3 years. The interesting thing to note here is that D2C business(Car Insurance, Bike Insurance) accounts for only 55% of policies sold but it accounts for 81.15% of Acko's revenue i.e. D2C policies tend to be of a higher average sum assured (and, therefore premium) as compared to the B2B2C policies. [Source]
---
BTW, if you want to understand how Acko works and get into details like Insurance Premiums, Regulatory filings, I'd highly recommend reading this piece by Rahul :)
---
Market Landscape
Insurance in India has always been dominated by legacy institutions and bank. And it's pretty clear that they are not doing a good job. Insurance penetration at ~ 3.69% (of GDP) in 2019 which is super low. The global average stands at 6.09% while UK and USA have an astounding insurance penetration rate of 10.61% & 7.14% respectively.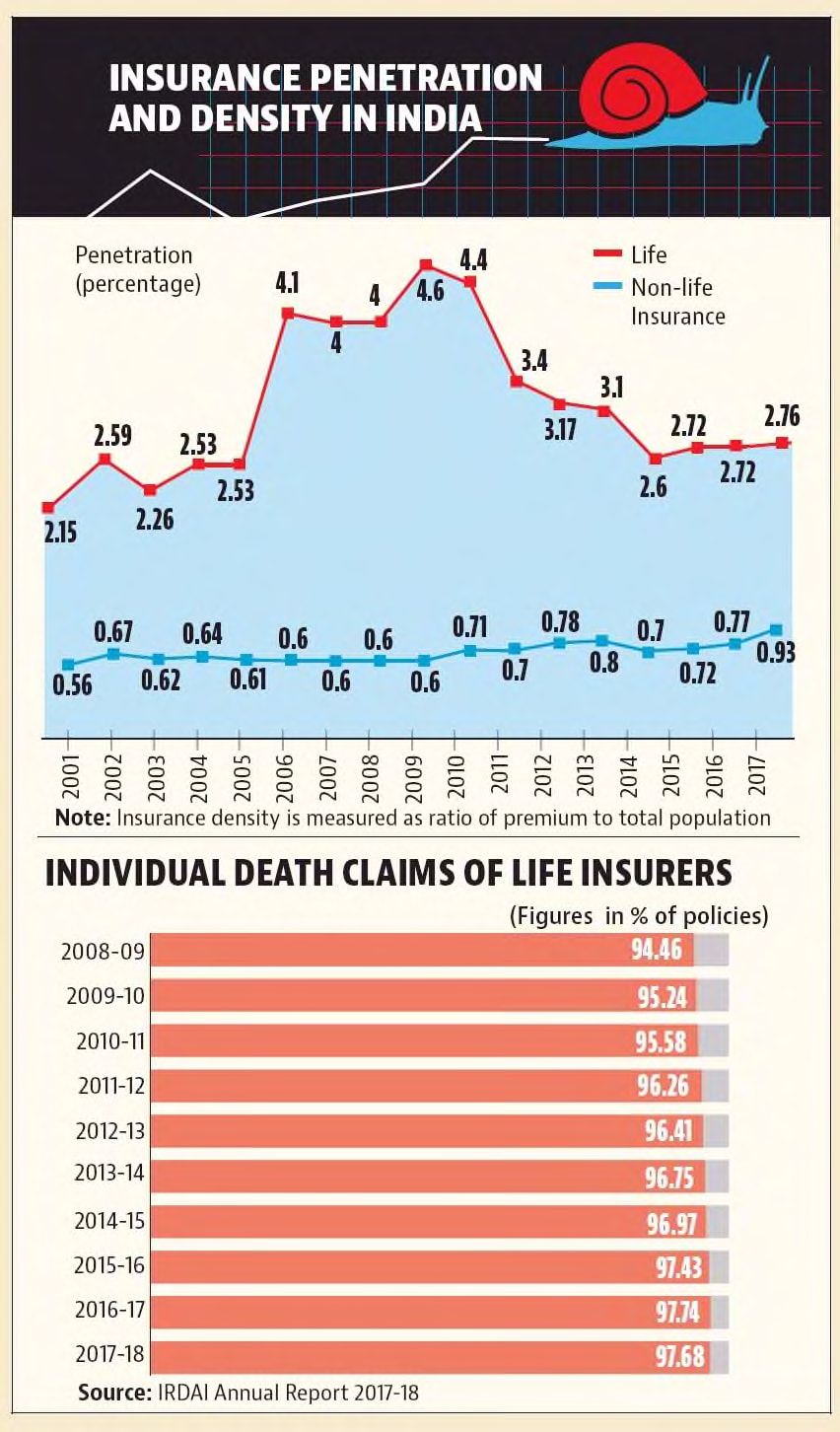 And this is where new-age companies such as Digit, Acko, Toffee, GramCover, can do a really good job. Insurance in India is a tricky subject but the opportunity is immense and companies like Acko and Digit have a headstart and not to forget their innovative approach to it.
Other companies in the Indian InsurTech Space are-
Funding
Officially. Acko General Insurance has raised over $107M in funding from a bunch of strategic investors, & marquee VC funds in India.
Also, Munich Re Ventures is rumoured to be investing $60M-$70M into Acko Insurance at a valuation between $400M to $500M which will give the company more than enough runaway to endure COVID and boost its efforts towards becoming the No. 1 player in the Indian Market :)
---
Conclusion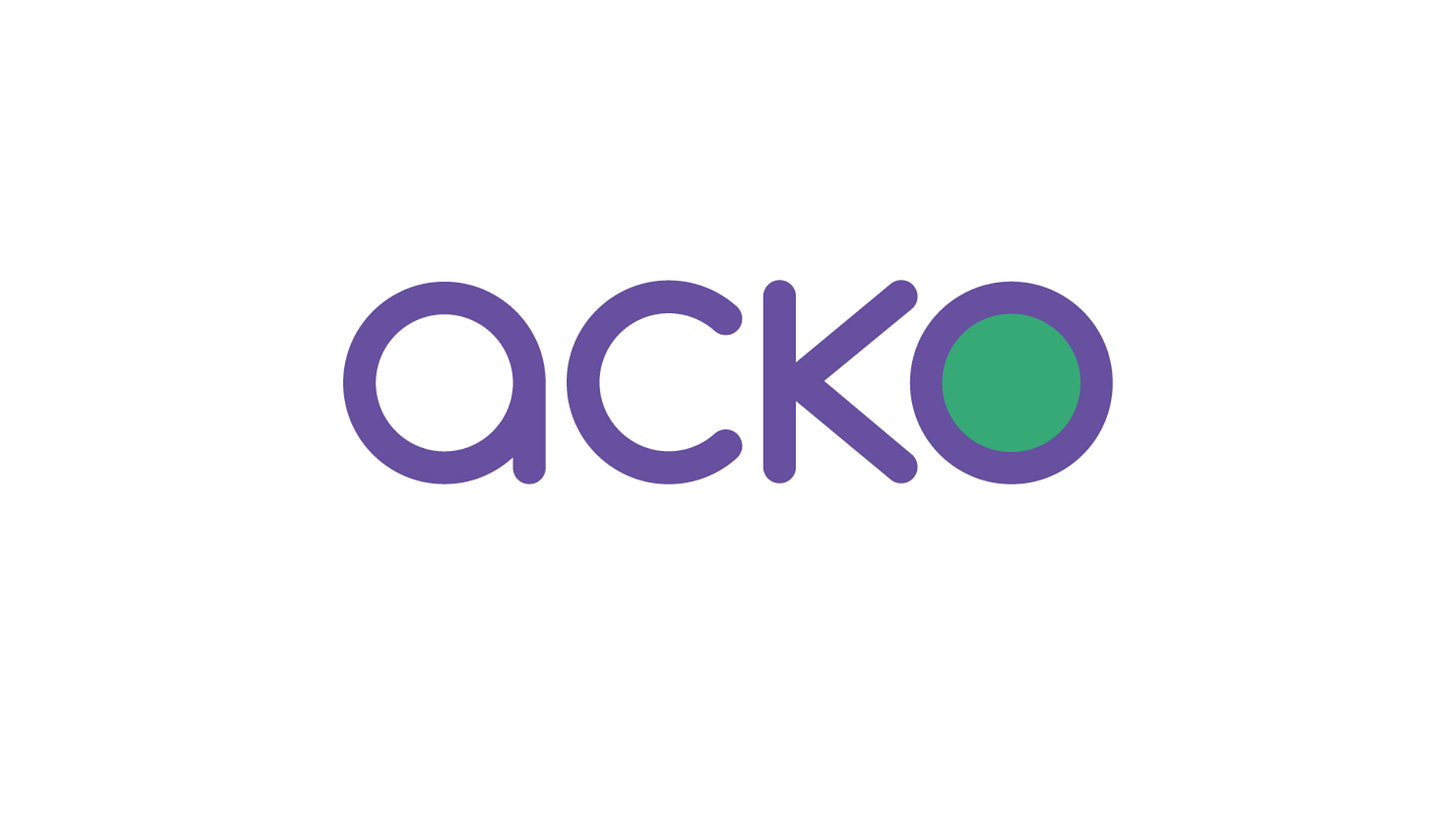 All in all, the future looks bright for Acko General Insurance and it's only a matter of time before they start dominating the Indian Insurtech scene given they don't become complacent about their execution.
Good times ahead for the company :)
---
That's it for today. See you next week :)
Also, follow me on Twitter
@ankitkr0